Ethyldiisopropylamine

CAS No.: 7087-68-5
Chinese name: Ethyldiisopropylamine
English name: Ethyldiisopropylamine
Molecular formula: C8H19N
Molecular weight: 129.24
Structural formula: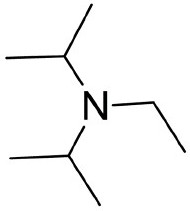 Physicochemical property
Melting point: -46οC
boiling point: 127οC
Solubility: MISCIBLE
Refractive rate: 1.4123-1.4143
flash point: 6οC
Density: 0.782
Property: Colorless transparent liquid ,density 0.742g/ml(20°C), boiling point 127°C, flash point 10.56°C, refractive rate 1.412. Soluble in alcohol, ehter and other organic solvents, it is alkali, inflammable, with the amine odor and it is irritating.